2019
GIFA 2019 - This has been our booth!
If you had not the possibility to visit us at the GIFA this year, we created this video for you. This is the chance to get an impression of our booth and the new innovation of the DuoCast.
Again we want to thank every visitor and employee who has made this successful exhibition possible.
If you need any further information about the new machine or other services of our company, please contact us.
Your team from DSD!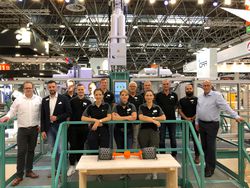 A successful week of exhibition has an end!
The GIFA 2019 and the connected presentation of our brand new DuoCast is over and we can take a very successful review with interesting talks on our booth.
We´re thankful for every visitor who has visited us last week and the interest you show for our company and our new machine.
Also we would like to thank every employee who has made this exhibition possible.
For more information about the machine please click the link below.
Your team from DSD!
Go back